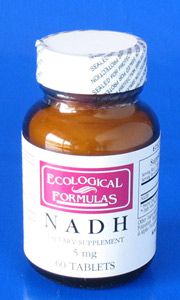 NADH (Nicotinamide Adenine Dinucleotide, reduced) is a substance synthesized from niacin that is contained in all living cells and has a primary role of producing energy and triggering many vital chemical reactions inside the cell. NADH is recommended by Dr. Amy Yasko to assist with the recycling of reduced glutathione in the body.
After a lot of clinical research, additional benefits of NADH include:
* Acting as the driving force behind increasing energy while reducing fatigue.
* Playing a key role in cell regulation with positive physical effects on blood pressure, cholesterol levels, sugar metabolism, heart rate and more.
* Playing a key role in DNA repair
* Playing a key role in the repairs to worn out, wounded or damaged cells.
* Stimulating & increasing the capacity of the immune system to produce antibodies and fight foreign invaders & disease.
* Providing potent antioxidant activity.
* Increasing the synthesis of certain neurotransmitters in the brain providing a positive physical effect on moods, memory retention, and learning.
$30.00

Suggested Dosage: Take one tablet daily on an empty stomach at least 30 minutes before food or other supplements. Refrigerate after opening.
Each tablet contains:
Supplement Facts
Serving size
1 tablet
%DV
Servings per container
60
NADH
5 mg
*
* Daily Value not established.
Other Ingredients: Sorbitol, Methyl Cellulose, Potassium Bicarbonate, Magnesium Stearate, Tocopherol Succinate
This product contains NO yeast, corn, gluten, soy, lactose, sugar or other sweeteners, artificial colors or preservatives.
These statements have not been evaluated by the FDA. This product is not intended to diagnose, cure, treat, or prevent any disease
Share