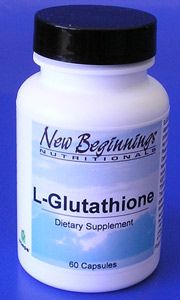 Glutathione is a peptide and an anti-oxidant naturally produced in the body. It is important to good health and long life. Levels may drop as a result of oxidative stress due to disease, drugs, aging, toxic chemicals, inflammation, and stress in general. Adequate levels of glutathione are necessary to provide important antioxidant protection needed by the cells, to help eliminate toxic metabolic waste products and to support the immune system.
$20.00

Suggested Dosage: 1 to 2 capsules daily or as suggested by your health care practitioner. Capsules can be swallowed or opened and contents mixed in food or juice.
Each capsule contains:
Supplement Facts
Serving size
1 Vegetarian Capsule
%DV
Servings per container
60
L-Glutathione (Reduced)
75 mg
*
* Daily Value not established.
Other Ingredients: Cellulose, gelatin (capsule) and vegetable stearate.
This product contains NO yeast, gluten, soy, milk/dairy, corn, sodium, sugar, starch, artificial coloring, preservatives or flavoring.
These statements have not been evaluated by the FDA. This product is not intended to diagnose, cure, treat, or prevent any disease.
Share