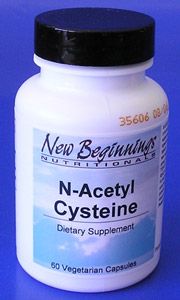 N-Acetyl L-Cysteine (NAC) is a precursor to the amino acid cysteine and is well absorbed in the intestinal tract and has been found to significantly boost glutathione levels in persons who are deficient. Adequate glutathione levels are especially important for children with special needs who may need extra support for their immune and detoxifications systems. In addition, NAC is a natural mucolytic, which reduces the viscosity of mucus.
$22.00

Suggested Dosage: 1 capsule daily or as suggested by your health care practitioner. Capsules can be swallowed or opened and contents mixed in food or juice.
Each capsule contains:
Supplement Facts
Serving size
1 Capsule
%DV
Servings per container
60
N-Acetyl Cysteine USP
500 mg
*
* Daily Value not established.
Other Ingredients: Natural vegetable capsules, magnesium stearate, microcrystalline cellulose.
These statements have not been evaluated by the FDA. This product is not intended to diagnose, cure, treat, or prevent any disease.
This product contains NO yeast, corn, gluten, soy, lactose, sugar or other sweeteners, artificial colors or preservatives.
Share