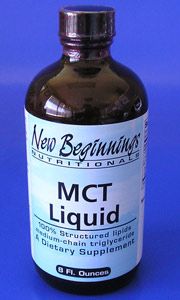 MCT liquid is an excellent energy and fat source for people who have impaired fat digestion. Medium Chain Triglycerides (MCTs) are fats that are easier for the body to digest.  Most fats consumed in our daily diet are long chain triglycerides, which are broken down in the intestine and then must be converted into a form that can be transported in the blood.  But MCTs are broken down to caprylic acid at a much faster rate, making them more absorbable even in individuals who produce low levels of lipase.  An important benefit of MCT liquid is that it has a high concentration of caprylic acid.  Caprylic acid is a fatty acid that has potent natural anti-fungal and anti-bacterial properties, which can be beneficial in keeping a healthy balance of intestinal flora.
$14.00

Suggested Dosage:
| | |
| --- | --- |
| Children 6 years and younger | ¼ – ½  tablespoon two times daily |
| Children over 6 years to adults | ½ – 1 tablespoon two times daily |
Each tablespoon contains:
Supplement Facts
Serving size
1 Tablespoon
%DV
Servings per container
Approx. 17
100% Structured lipids medium-chain triglycerides
12 g
*
GLC supplying:
Caprylic
Approx. 8.4 g
*
Capric
Approx. 3.6 g
*
* Daily Value not established.
Other Ingredients: none
These statements have not been evaluated by the FDA. This product is not intended to diagnose, cure, treat, or prevent any disease.
Share