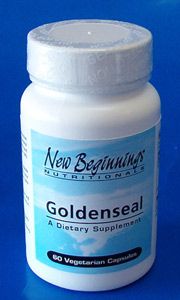 A North American native herb, the active ingredients of goldenseal include a group of alkaloids, hydrastine and berberine. These alkaloids are strongly astringent and help reduce inflammation of mucous membranes and also have antiseptic properties. A great deal of research has shown that berberine has anti-bacterial, anti-fungal and anti-parasitic activity. Goldenseal's anti-inflammatory properties are soothing for the gastrointestinal tract and promote health in the digestive system, immune system and nervous system.
New Beginnings Goldenseal Extract, is standardized to 10% alkaloids (5% Hydrastine).
$17.00

Suggested Dosage: 1 capsule two times daily or as suggested by your health care practitioner. Continuous use of this product should not exceed two weeks. Women who are pregnant or breastfeeding should not take goldenseal.
Each capsule contains:
Supplement Facts
Serving size
1 Vegetarian Capsule
%DV
Servings per container
60
Goldenseal Herbal Extract  (rhizome and root)
(Hydrastis Canadensis)  Standardized to provide
12. 5 mg of alkaloids (6.25 mg hydrastine)
125 mg
*
Goldenseal (rhizome and root)
(non-standardized)
100 mg
*
* Daily Value not established.
Other Ingredients: Cellulose, silica and vegetable stearate.
This product contains NO yeast, gluten, soy, dairy, corn, sugar, artificial coloring, preservatives or flavoring.
These statements have not been evaluated by the FDA. This product is not intended to diagnose, treat, cure, or prevent any disease.
Share