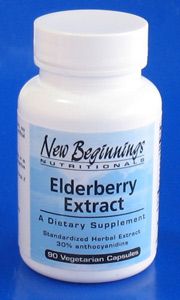 Elderberry (Sambucus nigra) is derived from the dark purple berry or from the white to light-yellow flowers of the black or common elder tree, a small tree native to Europe. It was used traditionally to make topical remedies for many ailments. Elderberry Extract is known for its antioxidant, diuretic, laxative, immune, anti-inflammatory and anti-viral properties.
According to research, elderberry anthocyanins enhance immune function by boosting the production of cytokines, proteins acting as messengers in the immune system to help regulate immune response.  An Israeli study on the anti-viral activity of elderberry extract found that in vitro elderberry extract inhibited replication of a number of strains of influenza A and B in cell cultures. In the same paper, administration of elderberry extract to 27 patients with influenza shortened the duration of flu symptoms.
$28.00

Suggested Dosage: Take 2 to 3 capsules daily between meals or as directed by your healthcare practitioner.  These capsules can be opened and mixed with food or drink.
Each capsule contains:
Supplement Facts
Serving size
1 vegetarian capsule
%DV
Servings per container
45
Elderberry (Sambucus nigra L.)
Standardized to 30% anthocyanins with 8% totalacids and 7% total polyphenols.
187 mg
*
Other ingredients: Cellulose and vegetable stearate.
* Daily value not established.
This product contains NO yeast, gluten, dairy, corn, sugar, artificial coloring, preservatives or flavoring.
These statements have not been evaluated by the FDA. This product is not intended to diagnose, treat, cure, or prevent any disease
Share