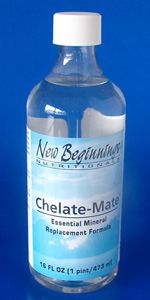 New Beginnings Nutritionals Chelate-Mate™ is a unique concentrated blend of bio-available liquid ionic multi-minerals that do not contain copper or iron.  Ionized minerals are very bio-available because they are easily recognized and absorbed by the body, which results in better utilization and assimilation into the cells. This formula was specially created to meet the nutritional requirements of children with special needs, who may be dealing with restrictive diets, poor eating habits, or chelation therapies, all of which can result in mineral deficiencies..  New Beginnings Nutritionals Chelate-Mate™ is a premier mineral replacement formula ideal for chelation support or for every day mineral supplementation.
Why is important to supplement with minerals?  With the use of synthetic fertilizers, depletion of the soil and modern manufacturing, supplementation with minerals (and vitamins) supplies needed nutrients that our bodies can no longer obtain from the food supply.  Minerals are essential for life and are the catalysts that help vitamins and enzymes carry out their necessary functions, including:
•     Nerve impulse transmission
•     Blood clotting
•     Blood and bone formation
•     Healthy nerve function
•     Balancing body fluid composition
•     Oxygen transformation
•     Regulation of muscle tissue.
New Beginnings Nutritionals Chelate-Mate™ contains water-soluble minerals that are in an angstrom-sized (1/10,000th of a micron) ionic form bonded to ultra pure water that can be easily absorbed into the cells with no digestion required. This process is similar to how a plant naturally absorbs the minerals from the soil, which is to break them down into a usable cell-ready form.
WhyNew Beginnings Nutritionals Chelate-Mate™ doesn't contain calcium
Minerals will compete with each other for the same binding sites in the gastrointestinal tract and calcium is specifically known to inhibit the absorption of zinc and magnesium.   Because optimal absorption of essential minerals is so important (especially when dietary restrictions and/or chelation therapies are involved), it is important to carefully consider how these minerals are combined and dosed.  As a result, Chelate-Mate™ was purposely formulated to exclude calcium in order to optimize the absorption of the essential minerals zinc, magnesium, chromium, manganese, selenium, and molybdenum and others.  Calcium can then be dosed separately (or with a smaller amount of magnesium), so that this vital mineral is more likely to also be more fully absorbed and utilized by the body.
$42.00

Suggested Dosage:
| | |
| --- | --- |
| Children Age 5 -Adult: | Mix 1 Tbsp (1/2 fl oz or 15 ml) into water or juice or as directed by physician. |
| Children 0-4 years: | Mix ½ Tbsp (1/4 fl oz or 7.5 ml) into water or juice or as directed by physician. |
Chelate-Mate™ hides very well in fruit juices or can be added to water with a drop of stevia for taste.  Doses may be given all at once in divided into two doses away from calcium
Each dose contains:
Supplement Facts
Serving size
Children under age 4

¼ oz (1/2 Tbsp)

%DV
Children ages 4+ and Adults

½  oz (1 Tbsp)

%DV
Servings per container
64
32
Iodine
50 mcg
72%
100 mcg
67%
Magnesium
25 mg
13%
50 mg
13%
Zinc
7.5 mg
98%
15 mg
98%
Selenium
50 mcg
143%
100 mcg
143%
Manganese
1.5 mg
150%
3 mg
150%
Chromium
25 mcg
42%
50 mcg
42%-
Molybdenum
25 mcg
67%
50 mcg
67%
Potassium
12.5 mg
<1%
25 mg
<1%
Boron
25 mcg
*
50 mcg
*
Vanadium
10 mcg
*
20 mcg
*
* Daily Value not established.
Other Ingredients: Ultra pure water and potassium sorbate (to preserve freshness).
This product contains NO yeast, gluten, soy, dairy, corn, sugar, artificial coloring, preservatives or flavoring.
These statements have not been evaluated by the FDA. This product is not intended to diagnose, treat, cure, or prevent any disease.
Share