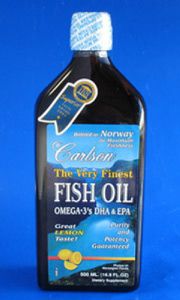 The Very Finest Fish Oil comes from cold-water fish found in deep Norwegian waters. It is processed and bottled in Norway to insure maximum freshness. Take by the teaspoonful, mix with foods, try it on salads! It has a refreshing lemon taste. This product is regularly tested using AOAC international protocols for potency and purity by an independent, FDA registered laboratory and found to be free of detectable levels of mercury, cadmium, lead, PCB's and 28 other contaminants.
$42.00

Suggested Dosage: 1 – 2 teaspoons daily with food
Each teaspoon contains:
Supplements Facts
Serving size
1 Teaspoon (5ml)
%DV
Calories (energy)
40
Calories from Fat
40
Total Fat
4 g
6%
Saturated Fat
1 g
5%
Polyunsaturated Fat
2 g
*
Monounsaturated Fat
1 g
*
Cholesterol
15 mg
5%
Vitamin E Natural (d-Alpha Tocopherol)
10 IU
33%
Omega-3 Fatty Acids
1600 mg
*
EPA (Eicosapentaenoic Acid)
800 mg
*
DHA (Docosahexaenoic Acid)
500 mg
*
Other Omega-3 Fatty Acids
300 mg
*
Proprietary antioxidant blend (Rosemary Extract, Ascorbyl Palmitate, Natural Tocopherols)
14 mg
*
* Daily Value not established.
Ingredients: Omega-3 Fish Oil, natural lemon flavor, rosemary extract, ascorbyl palmitate, natural tocopherols
These statements have not been evaluated by the FDA. This product is not intended to diagnose, cure, treat, or prevent any disease.
Share