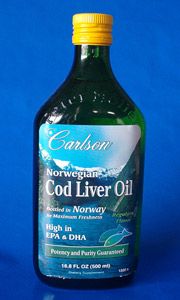 Taken from cold Norwegian waters, this lemon-flavored high quality liquid Cod Liver Oil from Carlson Labs is free of contaminants and pleasant tasting. Dr. Mary Megson found that the natural vitamin A in Cod Liver Oil helps support proper vision, behavior, awareness and immune system function. Carlson's Liquid Cod Liver Oil is also high in Omega-3 fatty acids (DHA and EPA), in which many children and adults are deficient. Adequate levels of these Essential Fatty acids are of vital importance for maintaining good health. Deficiencies can be a factor in skin conditions, leaky gut, cognitive functioning, inappropriate pain response, poor muscle reflexes, immune system function, inflammation and many other conditions.
Carlson's Cod Liver Oil is regularly tested using AOAC international protocols for potency and purity by an independent, FDA registered laboratory and found to be free of detectable levels of mercury, cadmium, lead, PCB's and 28 other contaminants.  Carlson's Liquid Cod Liver Oil is available in unflavored and lemon flavored varieties.
$32.00

Suggested Dosage: 2 teaspoons daily with food or as suggested by your health care practitioner.
– REFRIGERATE AFTER OPENING –
Each teaspoon contains:
Supplement Facts
Serving size
1 Teaspoon (5 ml)
%DV
Calories
45
Calories from Fat
45
Total Fat
5 g
8%
Saturated Fat
1 g
5%
Cholesterol
20 mg
7%
Vitamin A
500 to 1250 IU
10 to 22%
Vitamin D
400 IU
100 %
Vitamin E
10 IU
30%
Omega-3 Fatty Acids
1,100 to 1,250 mg
*
DHA (Docosahexaenoic Acid)
500 – 590 mg
*
EPA (Eicosapentaenoic Acid)
340 – 500 mg
*
ALA (Alpha Linolenic Acid)
40 – 55 mg
*
* Daily Value not established.
Other Ingredients: Natural lemon flavor for flavored version.
These statements have not been evaluated by the FDA. This product is not intended to diagnose, treat, cure, or prevent any disease.
Share