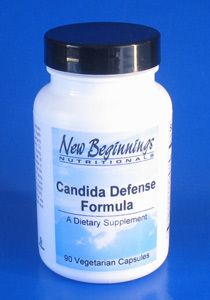 This potent yeast control product combines powerful anti-fungal agents with liver and gastrointestinal herbs to maximize its performance. Candida Defense Formula is a unique formula designed for support of any fungal or yeast problem, especially Candidiasis, the over-growth of candida albicans. Candida albicans is a type of parasitic yeast-like fungus that inhabits the intestines tract, mouth, esophagus and throat. Candida Defense Formula is a potent formula of botanical and lipid anti-fungal agents with soothing herbs to reduce upset stomach, bloating and gas.
$29.00

Suggested Dosage:
| | |
| --- | --- |
| Children | 1 to 2 capsules daily or as suggested by your health care practitioner. |
| Adults | 2 to 6 capsules daily or as suggested by your health care practitioner. |
Two capsules contain:
Supplement Facts
Serving Size
2 capsules
%DV
Biotin
300 mcg
100%
Zinc (as Zinc Undecylenate USP)
20 mg
133 %
Oregano Leaf Extract 10:1
180 mg
*
Pau D'Arco inner bark Extract 5:1
180 mg
*
Sodium Caprylate
150 mg
*
Zinc Undecylenate USP
150 mg
Berberin Sulfate Hydrate
115 mg
*
Cinnamon Bark Extract 5:1
100 mg
*
Ginger Root
100 mg
*
Grapefruit Seed Extract (Citricidal®)
100 mg
*
German Chamomile Flower (from Asteracea Family)
50 mg
*
* Daily Value not established.
Other Ingredients: Natural Vegetable capsules. This product may contain one or more of the following: Calcium Silicate, Magnesium Stearate, Microcrystalline Cellulose, and Silicon Dioxide, Citricidal® is a register trademark of Bio/Chem research.
This product contains NO yeast, gluten, soy, milk/dairy, corn, sugar, starch, artificial coloring, preservatives or flavoring.
These statements have not been evaluated by the FDA. This product is not intended to diagnose, treat, cure, or prevent any disease.

Share