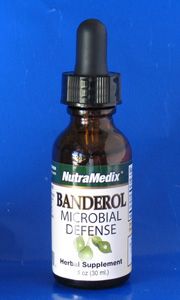 Banderol is an extract produced from the bark of the Otaba sp., a tree that is found in South America.  Nutramedix utilizes a proprietary extraction and enhancement process that makes this product more effective than any other Otaba sp. product available.  Banderol has been used to support the functioning of the respiratory, digestive and urinary tract because of its potent anti-microbial and anti-inflammatory properties.
$40.00

Suggested Dosage: Put 1 to 15 drops in a glass, add 4 oz.(120 ml) of pure water and wait one minute before drinking.  Start with 1 drop, 2 times per day slowly increasing up to 15 drops 2 times per day or as directed by your physician.  Shake well before using.
Each 15 drops contain:
Supplement Facts
Serving size
15 Drops
Servings per container
40
%DV
Banderol Bark Extract

(Otoba sp.)

0.75 ml
*
Other Ingredients: Mineral water, Ethanol (20-25%)
This product contains NO yeast, gluten, soy, milk/dairy, artificial colors or preservatives.
These statements have not been evaluated by the FDA. This product is not intended to diagnose, cure, treat, or prevent any disease.
Share