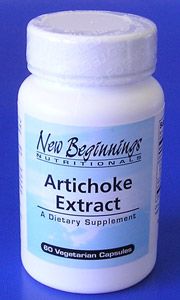 Artichoke extract has demonstrated antioxidant action and the ability to maintain healthy digestion and liver function by promoting adequate bile flow.  Bile serves as a major carrier of cholesterol and detoxified substances for excretion from the body.  Artichoke Extract is an excellent alternative to Milk Thistle because it not only protects the liver from damaging pesticides, heavy metals and other liver damaging chemicals; it helps fight free radicals as a result of its potent antioxidant properties.
New Beginnings Nutritionals Artichoke Extract is a blend of Globe Artichoke Herbal Extract and Artichoke flower, head, leaf, and root. New Beginnings Artichoke Extract is standardized to provide 10 mg Cynarin.
$13.00

Suggested Dosage: 1 capsule daily between meals or as suggested by your health care practitioner.
Artichoke Extract Digestive and Liver Support 60 caps
Each capsule contains:
Supplement Facts
Serving size
1 Vegetarian Capsule
%DV
Servings per container
60
Globe Artichoke Herbal Extract
200 mg
*
Artichoke
100 mg
*
* Daily Value not established.
Other Ingredients: Cellulose and vegetable stearate.
This product contains NO yeast, gluten, soy, milk/dairy, corn, sodium, sugar, starch, artificial coloring, preservatives or flavoring.
These statements have not been evaluated by the FDA. This product is not intended to diagnose, treat, cure, or prevent any disease.
Share