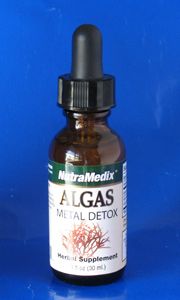 NutraMedix Algas Metal Detox Liquid Extract Nutramedix utilizes a proprietary extraction and enhancement process that provides a highly bio-available, full spectrum extract.  Nutramedix Algas is produced from an extract of Gigartina chamissoi, a red algae that is harvested from the Pacific Ocean.
It has been used as a detoxification aid in Peru for centuries and may assist the body with metal detoxification.
$40.00

Suggested Dosage: Put 5 to 10 drops in a glass, add 4 oz.(120 ml) of pure water and wait one minute before drinking.  Take one dose every 1 to 3 days or as directed by your healthcare practitioner.  Shake well before using.
Each 10 drops contain:
Supplement Facts
Serving size
10 Drops
Servings per container
60
%DV
Algas Extract

(Gigartina chamisso)

0.50 ml
*
Other Ingredients: Mineral water, Ethanol (20-25%)
This product contains NO yeast, gluten, soy, milk/dairy, artificial colors or preservatives.
These statements have not been evaluated by the FDA. This product is not intended to diagnose, cure, treat, or prevent any disease.
Share