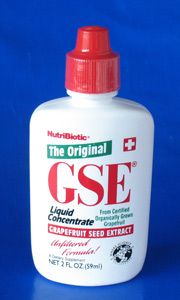 Nutribiotic® Liquid Concentrate contains CITRICIDAL®, a natural quaternary compound synthesized from the seed and pulp of certified organically grown grapefruit. The manufacturing process converts grapefruit bioflavonoid (polyphenolics); into an extremely potent compound that has been proven highly effective in numerous applications. CITRICIDAL is used by healthcare professionals worldwide as nutritional support for individuals with certain health concerns.
Caution: Do not put in eyes. Do not use full strength in mouth, ears, nose or sensitive areas. This product may cause irritation if used full strength on skin.
$12.50

Suggested Dosage: Children take 1 to 5 drops, and adults take 5-15 drops, two to three daily, or as suggested by your health care practitioner.  Each dose can be mixed into a small amount of diluted citrus juice and may be sweetened with 2 drops of stevia.
Ten drops contains:
Supplement Facts
Serving size
10 drops
%DV
Servings per container
200
Grapefruit Seed Extract (Citricidal, water soluble botanical)
100 mg
*
* Daily Value not established.
Other Ingredients: Vegetable glycerine (derived from palm and coconut), and Citricidal® (extract of pulp, seeds, and inner rind)
These statements have not been evaluated by the FDA. This product is not intended to diagnose, cure, treat, or prevent any disease.
Share