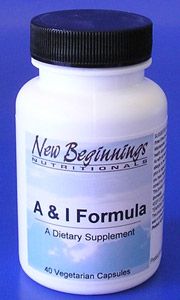 Also available in great tasting chewable tablets!
A & I Formula is a natural, non-drowsy formula designed to provide relief from allergy and cold symptoms and accompanying inflammation. The following primary components are the reason why A & I Formula can provide optimal support to inhibit the release of histamine and to provide overall support to the body's mucosal membranes that can be affected by seasonal allergies, food allergies, and other environmental assaults on the immune system.
Quercetin – A powerful natural flavonoid with powerful antioxidant, antihistamine and anti-inflammatory properties.
Stinging Nettles Leaf – Stinging Nettles Leaf has been known for its analgesic, anti-inflammatory and overall healing qualities.
Bromelain – A strong pineapple enzyme, bromelain has proven mucolytic properties and it inhibits pro-inflammatory compounds, thus reducing pain and swelling.
N-Acetyl L-Cysteine (NAC) An amino acid that is a natural mucolytic, NAC reduces the viscosity of mucus.
$34.00

Suggested Dosage: Loading dose: 2 capsules three times daily for 7-10 days.  Acute dose: 2-3 capsules as needed. Maintenance dose: 1 or more capsules per day or as suggested by your health care practitioner.
Each capsule contains:
Supplement Facts
Serving size
1 Vegetarian Capsule
%DV
Servings per container
40 or 120
Vitamin C (as Ascorbic Acid)
150 mg
250%
Quercetin Dihydrate
200 mg
*
Stinging Nettles Leaf Powder
200 mg
*
Bromelain (2400 GDU/g)
50 mg
*
N-Acetyl Cysteine USP
25 mg
*
Fructose oligosaccharide
163 mg
*
* Daily Value not established.
Other Ingredients: Natural vegetable capsules, magnesium stearate,
This product contains NO yeast, gluten, soy, milk/dairy, corn, sodium, sugar, starch, artificial coloring, preservatives or flavoring.
These statements have not been evaluated by the FDA. This product is not intended to diagnose, treat, cure, or prevent any disease.
Share