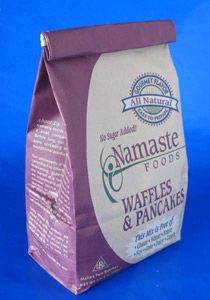 Namaste Foods if a manufacturer of fine foods that contain no wheat, gluten, corn, soy, potato, dairy or nuts and because their entire facility is free of these allergens, there is no potential for cross-contamination.  We truly believe Namaste Foods products are the best-tasting allergen-free products on the market!
These waffles and pancakes are light and fluffy and are absolutely delicious with a hint of pure vanilla. Top with fresh fruit and maple syrup and indulge!  They are as good or better than any wheat waffle and pancake mix on the market. Namaste Foods Waffle/Pancake mix is free of wheat, gluten, dairy, corn, potato, soy, and sugar.
$6.00

Ingredients:
Sweet rice flour, arrowroot flour, tapioca flour, rice milk powder, vanilla, cream of tartar, baking soda and salt Just add eggs, oil and water or rice milk.
Each bag contains two batches, with each batch making approximately 4-8 waffles, or 9-10 four-inch pancakes.
Each serving contains:
Supplement Facts
Serving size
85 grams
%DV
Servings per container
11
Calories
220
*
Calories from Fat
35
Total Fat
4 g
6%
Saturated Fat
0.5 g
3%
Trans Fat
0 g
Cholesterol
40 mg
13%
Sodium
320 mg
13%
Total Carbohydrates
42 g
14%
Dietary Fiber
2 g
8%
Sugars
2 g
Protein
3 g
* Daily value not established
Share