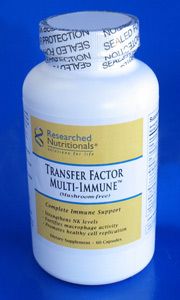 Researched Nutritionals Multi-Immune™ is a daily use comprehensive immune support formula that promotes healthy natural killer (NK) cells, macrophage, T-cells, and cell division.
Each bottle provides a one month supply of the following complexes and health benefits:
NK Maximizer Bioplex™: Proprietary super blend of transfer factor, larch arabinogalactan, and  IP-6, which  promotes healthy NK cell levels & immune modulation, engulfs foreign particles in blood stream and tissues and promotes metal detoxification to prevent buildup of metals which may weaken immune system
Macrophage & T-Cell Pro Blend™: Proprietary blend of TMG, beta glucan, and astragulus which activates white blood cells (known as macrophages and neutrophils) to provide one of the immune system's first line of defense against foreign invaders, removes cellular debris and speeds up recovery of damaged tissue and promotes healthy T-cell function, cellular replication, and liver function.
Healthy Cell GTP™: Proprietary blend of potent green tea and pomegranate extracts which promotes healthy cell division, triggers apoptosis in abnormal cells and contains effective antioxidant properties
Key Nutrient Blend: Folate, Vitamin B-12, Zinc, Selenium which strengthens immune function, promote normal cell growth and boost antioxidant levels.

Suggested Use: As a dietary supplement, take two capsules per day on an empty stomach (two hours after eating or one hour before eating) or as directed by your health care professional.
Two capsules contain:
Supplement Facts
Serving size
1 Vegetarian Capsule
%DV
Servings per container
30
Folate (as folic acid)
100 mcg
25%
Vitamin B12 (as cyanocobalamin)
4 mcg
67%
Zinc (as zinc oxide)
5 mg
30%
Selenium (as selenium amino acid chelate)
25 mcg
36%
NK Maximezer Bioplex™
Transfer factor NK+™ (is a proprietary super blend of chicken derived transfer factors and bovine colostrums, containing growth factors and immune components), Larch Arbinogalactan, IP-6 (inositol hexaphosphate)
1033 mg
*
Macrophage & T-Cell Pro Blend™
TMG, Beta Glucan, Astragulus 5:1 Extract
645 mg
*
Healthy Cell GTP™
Green Tea Extract (standardized for 95% polyphenols, 75% catechins, and 40% EGCG, Pomegranate Extract (standardized to 40% ellagic acid)
*
*Daily Value is not established
Other Ingredients: Gelatin (capsule shell), cellulose, magnesium stearate,
Caution: Individuals with known egg white allergy should consult their physician before using this product.
This product contains no corn, sugar, salt, preservatives, fish, crustacean shellfish, treenuts, soybeans, peanuts, wheat, gluten, artificial flavors or color.
These statements have not been evaluated by the FDA. This product is not intended to diagnose, treat, cure, or prevent any disease.
Share