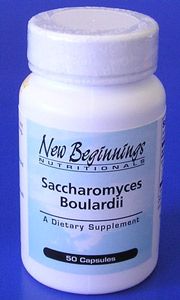 Saccaromyces Boulardii is a beneficial and non-colonizing yeast (not related to the Candida species) that can be helpful in supporting the microflora of the gastrointestinal tract.  Research studies have indicated that Saccharomyces boulardii may work by modulating the body's immune response, thus helping to improve the resistance to harmful bacteria.  S. Bouldardii can be effectively taken with other probiotic strains but should not be taken within 2 hours of a prescription or natural anti-fungal, such as Nystatin, Diflucan, grapefruit seed extract, oregano oil, etc.
$20.00

Suggested Dosage: 1 capsule daily or as suggested by your health care practitioner. Capsules can be swallowed or opened and contents mixed in food or juice. This product may cause an allergic reaction in individuals with an allergy to brewers yeast. Discontinue immediately if allergic symptoms appear.
Each capsule contains:
Supplement Facts
Serving size
1 Capsule
%DV
Servings per container
50
Saccharomyces Boulardii

(yielding over 3 billion organisms per capsule)

300 mg
*
* Daily Value not established.
Other Ingredients: Cellulose, gelatin (capsule), and vegetable stearate.
*These statements have not been evaluated by the FDA. This product is not intended to diagnose, treat, cure or prevent any disease.  This product contains no wheat gluten, soy protein, milk/dairy, corn, artifical coloring, preservatives or flavoring.
Share