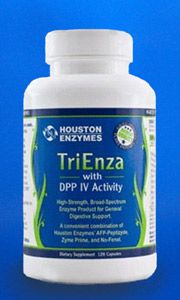 BROAD SPECTRUM COMBINATION OF HNI'S BEST ENZYMES!
Combination of AFP Peptizyde, Zyme Prime & No-Fenol
Breaks down proteins, carbohydrates, and fats
High DPP IV peptidase formula
No fillers
TriEnza™ is an economical combination of our best enzymes.  Two capsules of TriEnza™ contain a blend of 1 AFP Peptizyde, 1 Zyme Prime and 1/2 capsule No-Fenol (xylanse).
TriEnza™ aids in digestion of food proteins; including gluten, casein, and soy; starches; carbohydrates; sugars (including lactose); ...
Continue Reading →
Share