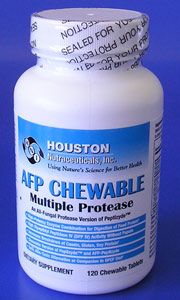 An All-Fungal Protease Version of Peptizyde™ in Chewable Tablet Form
Chewable version of AFP Peptizyde
High-Potency Enzyme Combination for Digestion of Food Protein
High Dipeptidyl Peptidase IV (DPP IV) Activity Without Papain
Increases Breakdown of Casein, Gluten, Soy Protein
Safe, Non-Toxic Alternative or Supplement to GFCF Diet
A chewable digestive form of AFP Peptizyde with a slightly sweet citrus flavor designed to efficiently breakdown all food proteins including casein, gluten, meat and soy. Starts to work in the acid environment of the stomach, which decreases the likelihood of peptides being formed and absorbed in the small intestine. May be used as a companion or alternative to the gluten-free/casein-free diet.
$28.00

Suggested Dosage:
Chew 2-3 tablets before meals or snacks.  It is important to remember that 3 tablets of AFP Chewable are equal to 1 capsule of AFP Peptizyde in terms of enzyme potency. It is recommended that after chewing and swallowing the tablets, food or drink be taken to clear the mouth to prevent minor tissue irritation.
Each serving contains:
Supplement Facts
Serving size
2 tablets
%DV
Servings per container
60
Peptidase (with DPP IV)
32,250 HUT
*
Protease 4.5
16,500 HUT
*
Protease 6.0
16,500 HUT
*
Calories
4
*
Total Fat
0
*
Sodium
3.2 mg
*
Total Carbohydrates
1.2 g
*
Sugar
1 g
*
Protein
0 g
*
* Daily Value not established.
Other Ingredients: Fructose, xylitol, stearic acid, natural tangerine flavor, natural orange juice powder, magnesium stearate, silicon dioxide, citric acid, salt.
AFP Chewable Peptizyde contains no dairy, soy, wheat, yeast, gluten, artificial flavors.
These statements have not been evaluated by the FDA. This product is not intended to diagnose, cure, treat, or prevent any disease. Peptizyde™ is a trademark of Houston Nutraceuticals, Inc.
Share