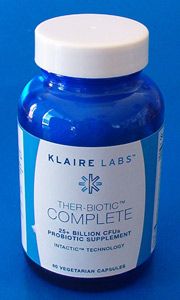 Probiotics are "friendly" bacteria that help support proper functioning of the gastrointestinal system. Hundreds of different strains of microorganisms, both beneficial and pathogenic, populate or pass through the intestinal tract. In a healthy digestive system, these bacteria are able to coexist in a balanced state.
Research has shown that different strains of probiotics have the ability to inhibit the growth of pathogenic bacteria through "crowding out" and pH-lowering activity. They can help boost immunity by stimulating natural antibiotic, antimicrobial, and antiviral mechanisms. They can strengthen mucosal membranes, regulate intestinal motility, and normalize bowel function.
Probiotics can also assist in managing allergic inflammation, reduce the symptoms of lactose intolerance, and aid mineral assimilation and metabolism (particularly calcium, magnesium, and zinc). Certain strains can improve digestion and stimulate the production of digestive enzymes and B vitamins. And an emerging hypothesis suggests that probiotics can play an important, complementary role in detoxification protocols.
Stress, disease, improper nutrition, antibiotics, medications, pesticides, and toxins can upset the delicate balance of intestinal flora. This imbalance can reduce the number of friendly bacteria and set the stage for digestive disorders, reduced immune function, increased allergic sensitivity, infection, and inflammation. Supplementation with probiotics can support the body in maintaining a healthy intestinal balance.
Comprehensive and maximum-support probiotic formula by Klaire Laboratories. This high-potency, hypoallergenic blend of 12 certified probiotic strains offers the most complete spectrum of microorganisms in the Klaire line. Ther-Biotic™ Complete is a unique combination of colonizing and transient strains providing broad coverage to support a healthy balance of flora across the entire gastrointestinal tract. Scientifically formulated with a full spectrum of synergistic and complementary strains, Ther-Biotic™ Complete is designed for individuals who require significantly higher amounts of several different types of probiotic strains to help support intestinal health. Formulated with 25+ billion CFUs per capsule, Ther-Biotic™ Complete uses our proprietary InTactic™ technology to ensure maximum delivery of live microorganisms throughout the intestinal tract.
Acid Stable Technology. Significant numbers of probiotic bacteria can be destroyed by gastric acid and digestive enzymes during their passage through the stomach. To help protect fragile bacteria, all Ther-Biotic™ probiotics contain InTactic™, an innovative acid-stable technology. InTactic™, a highly purified polysaccharide material of marine plant origin, forms a gel-like matrix that surrounds and protects the probiotic bacteria from destruction by gastric acid. This allows the friendly flora to survive the stomach acids and be delivered alive into the small intestines where they are released intact to exert their health promoting function. As a result, high functional potencies of live friendly flora are delivered where they are needed.

Suggested Dosage: 1 capsule daily or as suggested by your health care practitioner.
Each capsule contains:
Supplement Facts:
Serving Size
1 Vegeterian Capsule
%DV
Servings per container
60
*
Proprietary Blend
180 mg
*
Lactobacillus rhamnosus
6.0+ billion CFUs
*
Bifdobacterium bifidum
5.0+ billion CFUs
*
Lactobacillus acidophilus
3.0+ billion CFUs
*
Lactobacillus casei
2.5+ billion CFUs
*
Lactobacillus plantarum
2.0+ billion CFUs
*
Lactobacillus salivarius
2.0+ billion CFUs
*
Bifidobacterium longum
1.0+ Billion CFU
*
Streptococcus thermophilus
1.0+ Billion CFU
*
Lactobacillus bulgaricus
1.0+ Billion CFU
*
Lactobacillus helveticus
0.5+ Billion CFU
*
Bifidobacterium infantis
0.5+ Billion CFU
*
Bifidobacterium breve
0.5+ Billion CFU
*
* Daily Value not established.
Other Ingredients: Inulin base derived from chicory root, proprietary polysaccharide complex, Vcaps™ vegetarian capsule, L-leucine, and water.
*These statements have not been evaluated by the FDA. This product is not intended to diagnose, treat, cure or prevent any disease.
This product contains no wheat gluten, soy, dairy, corn, artifical coloring, preservatives or flavoring.