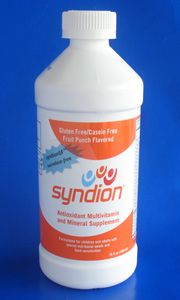 Syndion™-SF is a liquid antioxidant, multivitamin and mineral supplement formulation developed by Dr. Jim Adams, autism researcher at the University of Arizona. Syndion™-SF is a comprehensive supplement that supplies necessary vitamins and minerals in form that is well absorbed and forms micellular-like spheres that provide fat-soluble vitamins in a form that can be readily absorbed even when there is pancreatic impairment, liver dysfunction or digestive issues.
• Contains important antioxidants which reduce oxidative stress in the body and support the immune system
• Contains sources of sulfur that support normal transsulfuration pathways that contribute to glutathione status.
• Contains adequate doses of B vitamins, folate and folinic acid, and minerals to support normal methylation pathways that can be involved in modification of heavy metals, regulation of gene expression, regulation of protein function and RNA metabolism
• Supports natural detoxification pathways that remove toxic substances from the body
• Safely and effectively increases levels of fat-soluble nutrients and antioxidants
• Each batch tested to be free of heavy metals – including ANTIMONY
Directions for use: Syndion™ can be taken directly by spoon or syringe or mixed with a beverage. Best results are experienced with pineapple, pineapple-mango, dark berry juice or fruit smoothies.
$86.00

Suggested Dosage: The daily dose depends on the body weight. The chart below shows general suggested dosing guidelines. It is recommended to divide the total daily dose and give in two separate doses. Please consult your physician or health care professional and follow their specific recommendation..
| | |
| --- | --- |
| Body Weight in pounds | Total Daliy Dose in ml |
| 26-35 | 7.5 |
| 36-45 | 10 |
| 46-55 | 12.5 |
| 56-65 | 15 |
| 66-75 | 17.5 |
| 76-85 | 20 |
| 86-95 | 22.5 |
Supplement Facts

Amount per 15 ml (Dosage for 60 lb child)
Amount per 25 ml

(Adult Dosage)

Vitamin A (as 85% beta carotene and 15% palmitate)
6,500 IU
10,833 IU
Vitamin C (as calcium ascorbate)
600 mg
1000 mg
Vitamin D (as cholecalciferol)
300 IU
500 IU
Vitamin E (as d-alpha-tocopherol)
150 IU
250 IU
Thiamin (Vitamin B1 as thiamin hydrochloride)
20 mg
33 mg
Riboflavin (Vitamin B2)
20 mg
33 mg
Niacin (as niacinamide and nicotinic acid)
25 mg
42 mg
Vitamin B6 (as pyridoxine hydrochloride)
40 mg
67 mg
Folate (as folic acid and folinic acid)
600 mcg
1,000 mcg
Vitamin B12 (as cynanocobalamin)
500 mcg
833 mcg
Biotin
150 mcg
250 mcg
Pantothenic Acid (as calcium d-pantothenate)
15 mg
25 mg
Calcium
100 mg
167 mg
Iodine (as potassium iodide
100 mcg
167 mcg
Magnesium (as magnesium chloride hexahydrate)
100 mg
167 mg
Zinc (as zinc gluconate)
12 mg
20 mg
Selenium (as selenomethionine and sodium selenite)
30 mcg
50 mcg
Manganese (as manganese amino aid chelate)
3 mg
5 mg
Chromium (as chromium amino acid chelate)
70 mcg
117 mcg
Molybdenum (as sodium molybdate dehydrate)
150 mcg
250 mcg
Methylsulfonylmethane (MSM)
500 mg
833 mg
Choline Chloride
250 mg
417 mg
Inositol
100 mg
167 mg
Vitamin E (as other mixed tocopherols)
70 mg
117 mg
N-acetyl-cysteine
50 mg
83 mg
Coenzyme Q10
25 mg
42 mg
Lithium (as lithium oratate)
500 mcg
833 mcg
Other ingredients: water, fructose, xylitol, d-alpha-tocopherol polyethylene glycol 1000 succinate, stevia, natural flavors, potassium chloride, potassium sorbate, xanthan gum
This product contains NO yeast, gluten, egg, soy protein, milk/dairy, egg, copper and iron. Container is bisphenol A & phthalate free, and PC & PVC plastic free.
These statements have not been evaluated by the FDA. This product is not intended to diagnose, treat, cure, or prevent any disease.