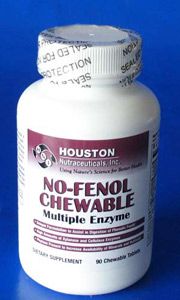 Great Tasting Soft Chewable Version of Houston's No-Fenol
Unique Formulation to Assist in Digestion of Phenolic Foods
High Amounts of Xylanase and Cellulase Enzymes
Phytase Present to Increase Availability of Minerals and Nutrients
No-Fenol was developed by Dr. Devin Houston in response to requests for a product that would allow them to eat fruits and vegetables without the problems thought to be associated with some phenolic compounds. Responses from many indicate that No-Fenol can allow the addition of these foods to the diet without complications. No-Fenol Chewable is a convenient form of enzyme dosing. Since many children balk at swallowing capsules, chewable tablets can make taking enzymes much more pleasant. Kids love the taste of No-Fenol Chewable, which is a different flavor from the other chewable enzymes produced by HNI, so you can easily tell which enzyme tablet your child is taking. They are also great for keeping in the car for trips, as no water is needed to take the tablets.
Xylanase is the major component of No-Fenol, and is an enzyme used to breakdown the structural components of plant cell walls, which are primarily very complex carbohydrates. Xylanase is used in the juice industry to extract more juice from fruit pulp fibers. At least one reference indicates that polyphenolic compounds are actually increased by the presence of xylanase. Based on this reference and the fact that No-Fenol has allowed "phenol-sensitive" individuals to ingest phenolic foods, HNI now believes that the phenol issue is much more complex than previously thought, and may not be due so much to the presence of phenols as to the specific structure of these phenols.
No-Fenol Chewable enzyme tablets bring all the advantages of No-Fenol capsules plus a great tutti-frutti flavor in a soft-chew tablet form. Experience and customer feedback indicate that many children do quite well with only 1/3 to 1/2 of a No-Fenol capsule, so the chewable tablet form of No-Fenol took this into account. One No-Fenol Chewable tablet is approximately 1/3 the dose of No-Fenol capsule, or 3 chewable tablets are equivalent to 1 No-Fenol capsule.
Reported Side Effects: In some cases, stools were softer and less formed, which may be a result of the enzymes decreasing the viscosity of the intestinal contents, as noted in animal studies.
$26.00

Suggested Dosage: Chew 1 to 2 tablets with phenolic foods, but not necessarily with every meal. No-Fenol is suggested primarily for those with known intolerances to phenolic compounds. Some have found satisfactory results with once or twice per day dosing, indicating that optimal dosing may be dependent upon many factors. Most will find that 1 or 2 No-Fenol chewable tablets are sufficient for most phenol-containing meals, but there is no upper limit on dosing, so feel free to experiment to find the dose that works best.
Each tablet contains:
Supplement Facts
Serving size
1 Tablet
%DV
Servings per container
90
Zyphenase™, a proprietary blend containing
*
Xylanase
10,000 XU
*
CereCalase™ (A blend of hemicellulase, beta-glucanase, and phytase)
473 MU
*
* Daily Value not established.
Other Ingredients: Fructose, xylitol, stearic acid (vegetable source), natural fruit flavor, magnesium stearate (vegetable source), citric acid, silicon dioxide, sodium chloride
This product contains NO starch, dairy, soy, wheat, yeast, gluten, artificial flavors, or animal derivatives.
These statements have not been evaluated by the FDA. This product is not intended to diagnose, cure, treat, or prevent any disease.