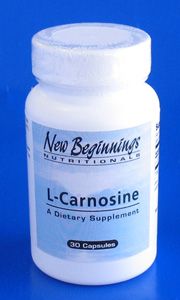 L-Carnosine is a naturally occurring dipeptide, which is a protein building block consisting of two amino acids, alanine and histidine. Found abundantly in the muscle and brain tissues of the body, L-Carnosine levels decrease significantly with age. Neurological research suggests that L-Carnosine appears to stimulate brain function in areas of the brain that control emotion, abstract thinking, and expressive speech. Additional research has also shown L-Carnosine to also possess antioxidant, neuro-transmitter, detoxification support properties, as well as the ability to protect and repair human cells.
$21.00

Suggested Dosage: ½ to 1 capsule daily with food or as directed by a healthcare practitioner.
Each capsule contains:
Supplement Facts
Serving size
1 Vegetarian Capsule
%DV
Servings per container
30
L-Carnosine
500 mg
*
Other Ingredients:Cellulose, gelatin (capsule) and silica
This product contains NO yeast, gluten, soy, dairy, corn, sugar, artificial coloring, preservatives or flavoring.
These statements have not been evaluated by the FDA. This product is not intended to diagnose, treat, cure, or prevent any disease.