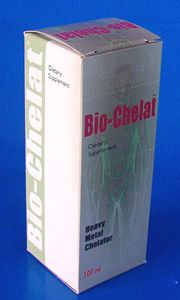 Bio-Chelat™is a patented oral chelation product from Germany with documented clinical trials showing it to be effective and safe for both children and adults. Bio-Chelat™ is recommended for sub-acute or chronic heavy metal exposure. It works gently and indirectly (through the Law of Isotonicity) by intensifying the body's physiologic elimination mechanism of heavy metals, which pulls free heavy metal ions the body tissues into the stomach/ intestinal tract and excreted. It is especially useful to prevent the everyday exposure of heavy metals in the environment from being absorbed (or re-absorbed) by the body. Bio-Chelat can be used for long periods without side effects because it uses only a very diluted amount of EDTA (ethylenediamine tetra-acetic acid), a synthetic amino acid that has been approved by the FDA for treating lead, mercury, cadmium and aluminum toxicity.
How can such a small amount of EDTA be effective? The secret to this product's success is the presence of an oxidative catalyser, which weakens the bond of heavy metal ions (like mercury) attached to organic protein molecules (SH- sulfhydryl groups) in the body and bloodstream. By reducing the strong bond between the protein and the heavy metal ion, the low concentration of EDTA can then easily bind with the heavy metal ion to form a new complex molecule. The body will not re-absorb the newly formed complex of EDTA and metal ion, but instead eliminate it through the urine and stool.
Even with this low concentration of EDTA in Bio-Chelat™, clinical trials show that the heavy metal content in the body is significantly reduced without affecting the essential mineral concentrations of calcium, magnesium, potassium, sodium and selenium (with only an insignificant decrease in the concentration of zinc). For more information regarding these clinical trials, contact New Beginnings Nutritionals.
$39.00

Suggested Dosage:
| | |
| --- | --- |
| Adults: | 1st week: 5 drops to 6 oz purified water 3x daily |
| | 2nd week: Increase to 10 drops |
| | 3rd week and beyond: Increase to 10 –15 drops |
| | |
| --- | --- |
| Children: (3-12 yrs): | 1st week: 3 drops to 3 oz purified water 3x daily |
| | 2nd week and beyond: Increase to 5-10 drops |
| | |
| --- | --- |
| Children (1-2 yrs): | 1st week: 2 drops to 2 oz purified water once daily |
| | 2nd week: Increase to 3-5 drops |
While taking Bio-Chelat™, drink plenty of water, take liver support supplementation such as milk thistle or artichoke extract, and supplement with additional zinc.
Contraindication: Not for use during pregnancy, breastfeeding and chemotherapy.
Possible Side Effects: Dry mouth, stomach problems and occasional nausea (very rare). Dosage adjustments may be recommended in these instances.
Each serving contains:
Supplement Facts
Serving size
20 drops (1 ml)
%DV
Servings per container
120
Citric Acid
3 mg
*
Sodiumbicarbonate
3 mg
*
Sodiumedetate
2 mg
*
Potassium Chloride
1 mg
0.05%
Sodium Chloride
0.5 mg
0.025%
Calcium Chloride
0.05 mg
0.005%
* Daily Value not established.
Other Ingredients:Distilled water
This product contains NO yeast, gluten, soy, milk/dairy, corn, sodium, sugar, starch, artificial coloring, preservatives or flavoring.
These statements have not been evaluated by the FDA. This product is not intended to diagnose, treat, cure, or prevent any disease.