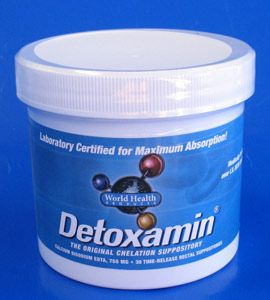 Detoxamin chelation suppositories are a patented time-release suppository that binds and removes or decreases toxic heavy metal contamination in the body. Detoxamin's chelation suppositories uses Calcium Disodium EDTA, a synthetic amino acid, in a suppository form as a chelating agent in a cocoa-butter base with Methocel E4M premium USP for a time release effect. The suppositories are a soft solid, bullet shaped preparation designed for easy self insertion. Each suppository dissolves at body temperature and gradually spreads over the lining of the lower rectum where it is absorbed into the bloodstream within approximately eighty minutes. Detoxamin's chelation suppositories are unique, "chelating from the inside out" approach is proving to be more effective, safer and far more convenient and affordable that the traditional IV method. If you want a proven and effective product that will remove toxic heavy metals from your body, Detoxamin's chelation suppositories are a powerful-yet safe method to achieve a major reduction in toxic heavy metals.
It is recommended that the use of Detoxamin be monitored by a physician trained in chelation therapy.
$240.00

Suggested Dosage: Insert 1/2 suppository (children age 3-14) to 1 whole suppository (age 15 – adults) every other evening or as directed by a healthcare professional.
Each ½ suppository contains:
Supplement Facts
Serving size
½ Suppository
%DV
Servings per container
60
Calcium Disodium EDTA USP Grade
375 mg
*
*Daily Value not established.
Other ingredients:  Cocoa butter, methocel E4M premium USP base.
These statements have not been evaluated by the FDA. This product is not intended to diagnose, cure, treat, or prevent any disease.
Share