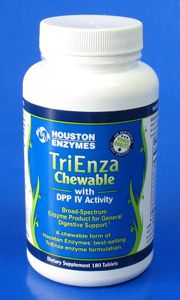 TriEnza Chewable is Houston's new multi-enzyme TriEnza formula in a flavored, chewable tablet. TriEnza contains:
all the protease enzymes for protein digestion from AFP-Peptizyde
all the enzymes (except cellulase) from Zyme Prime for carbohydrates and fats
1/2 the enzymes from No-Fenol (xylanase) for certain fruits and vegetables high in phenols
High Dipeptidyl Peptidase IV (DPP IV) enzyme activity
natural pineapple/tutti frutti flavor
TriEnza is a combination of Houston's best enzymes for digestion of proteins, carbohydrates, fats and phenols. TriEnza is high in DPP IV, the only enzyme known to break down casomorphin (from casein) and gluteomorphin (from gluten). TriEnza Chewable is different from our other chewable products. Fructose was replaced with a combination of xylitol and IsoMalt™, which is a low-digestive sugar alcohol derived from beets. IsoMalt™ is actually a dietary fiber that has beneficial properties for gut health. TriEnza will not interfere with time-released medications.
$44.00

Suggested Dosage: Take 3-4 tablets per meal or whatever amount works best for you.
Each 4 tablet serving contains:
Supplement Facts
Serving size
4 tablets
%DV
Servings per container
45
Peptidase (with DPP IV)
50,000 HUT
*
DPPIV
1200 DPPU
*
Protease 800
65,000 HUT
*
Amylase
12,000 DU
*
Protease 6.0
25,000 HUT
*
Glucoamylase
25 AGU
*
Lactase
1500 ALU
*
Alpha-galactosidase
200 GalU
*
Beta-glucanase
30 BGU
*
* Daily Value not established.
1.2 g
*
Other Ingredients: IsoMalt™, xylitol, citric acid, natural pineapple flavor, natural tutti frutti flavor, magnesium stearate.
TriEnza Chewable does not contain starch, rice, dairy, wheat, gluten, soy, yeast, artificial flavors or colors or animal derivatives.
These statements have not been evaluated by the FDA. This product is not intended to diagnose, cure, treat, or prevent any disease.