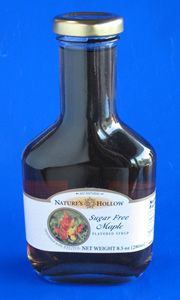 Nature's Hollow produces exceptional syrups that are a great tasting, healthful blend of maple flavoring and a sweetener called xylitol, a naturally occurring sugar substitute that is 100% natural, healthy, and has no aftertaste.  Because xylitol has a low glycemic index and cannot be utilized by yeast, it is an ideal sweetener for children and adults needing to significantly reduce their sugar intake for health reasons.  Nature's Hollow syrup tastes great on pancakes and waffles.
$6.00

Each serving contains:
Supplement Facts
Serving size
1/6 cup (40 mL)
%DV
Servings per container
About 6
Calories
22
Total Fat
0g
0%
Sodium
0g
0%
Total Carbohydrates
7g
3%
Effective Carbs
0g
3%
Sugars
5g
Protein
0g
0%
Xylitol
7g
*
* Daily Value not established.
Ingredients: Water, Xylitol, Xantham Gum, Natural Maple Flavor, Natural Caramel Color, Sorbic Acid, Citric Acid.
This product contains no gluten, yeast, milk derivatives, artificial colors or flavors.
Share