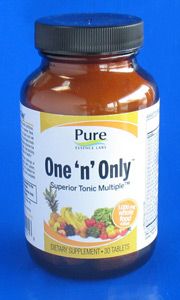 While the modern diet is deficient in hundreds of phyto-nutrients, anti-oxidants, and other factors, most supplements provide only 12 to 15 major vitamins and minerals. This is why Pure Essence Labs developed One 'n' Only, which is designed for people who will only take one tablet or capsule per day. One 'n' Only is the most potent, yet balanced once daily supplement ever offered.  It contains a perfect blend of vitamins and minerals (excluding calcium and magnesium), plus the equivalent of over 5,900 mgs of the world's most potent superfoods and tonic herbs. Together, these foods and herbs provide over 800 different phyto-nutrients that enhance metabolic efficiency in ways that vitamins and minerals simply cannot do alone.
One n' Only is recommended for caregivers and family members who are NOT on the autistic spectrum because it contain copper.
$15.00

Suggested Dosage: Take one tablet daily, preferably with breakfast. If complete nutrition is desired, supplement with additional calcium, magnesium and fish oil Up to two tablets per day can be taken for individuals with chronic health issues and/or stress.
Each tablet contains:
Supplement Facts
Serving Size
1 Tablet
%DV
Vitamin A (natural beta carotene)
10,000 IU
200%
Vitamin C (calcium ascorbate)
240 mg
400%
Vitamin D (d-apha tocopheryl succinate)
400 IU
100%
Vitamin E (as d-alpha-tocopherol)
100 IU
333%
Vitamin K (phyloquillone)
20 mcg
25%
Vitamin B1 (thiamine)
22.5 mg
1500%
Vitamin B2 (Riboflavin)
22.5 mg
1500%
Niacin (as niacinamide, niacin)
25 mg
125%
Vitamin B6 (as pyridoxine HCL)
30 mg
1500%
Folate (folic acid)
400 mcg
100%
Vitamin B12 ( methylcobalamin)
100 mcg
1667%
Biotin (d-biotin)
100 mcg
33%
Pantothenic Acid (calcium d-pantothenate)
30 mg
300%
Calcium (ascorbate, citrate)
30 mg
3%
Iodine (kelp)
150 mcg
100%
Magnesium (oxide, malate)
30 mg
7%
Zinc (citrate)
15 mg
100%
Selenium (l-selenomethionine)
100 mcg
143%
Copper (as sebacate)
1 mg
50%
Manganese (citrate)
2.5 mg
125%
Chromium (polynicotinate)
100 mcg
83%
Molybdenum (gycinate)
30 mcg
40%
Potassium (citrate)
5 mg
<2%
Superfoods

Spirulina 250 mg; Barley and Oat Grass juice (40:1 concentrate) 50 mg; phasophyta/ rhodophyta kelp, 38 mg

338 mg
*
Herbal Extracts:
Codonopsis(10:1) 40 mg; Schizandra berries (10:1) 40 mg; Eleuthero root (.8% eleutherosides)( 50:1), 40 mg; Gynostemma (12:1) 34 mg;A stragalus root (12:1) 34 mg; Foti-Root (polygonum multiflorum) (16:1), 25 mg
213 mg
*
Co-Nutrients
Choline bitartrate 25 mg; Inositol 25 mg; l-leucine 20 mg; mixed tocopherols, 3.5 mg
74 mg
*
Bioflavonoids
hesperidin complex (98%), 25 mg; rutin, 15 mg, quercetin (saphora japonica), 10 mg
50 mg
*
Minerals: 78 Ionic Trace Mineral complex, 25 mg; boron (as
glycinate), 1 mg; vanadium (as glycinate), 20 mcg
*
Enzymes Protease, Amylase, Lactase, Lipase, Cellulase,
invertase
*
Phytonutrients
One 'n' Only™ contains hundreds of valuable phyto-nutrient compounds.
*
*Daily value not established.
Other Ingredients: Cellulose, stearic acid, silicon dioxide, and croscarmellose sodium
This product contains no artificial colors, artificial flavors, GMOs, sugar, soy, yeast, dairy, gluten, wheat, or other common allergens.
These statements have not been evaluated by the FDA. This product is not intended to diagnose, treat, cure, or prevent any disease.
Share