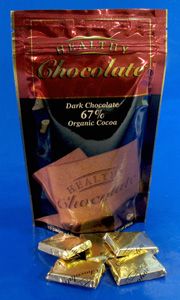 Healthy Chocolate is the only patent pending chocolate made with xylitol that was created especially for diabetics.  A rich, dynamic 67% dark chocolate made with organic ingredients and sweetened only with Smart Sweet birch derived xylitol!  This delicious chocolate also contains herbs that increase absorption of nutrients, support the immune system and help control blood sugar.  This chocolate is the perfect choice for those needing an allergen and sugar free chocolate that cannot be utilized by yeast. Additional benefits of Healthy Chocolate include:
–       Contains all organic ingredients
–       Gluten, Dairy, and soy free
–       ORAC rating of 3,040 per piece
–       Rich in antioxidant and polyphenols
–       Helps stabilize blood  sugar
–       Safe for diabetics and children
–       Helps to reduce bacteria that causes tooth decay
$11.20

Ingredients: Organic cocoa liquor, organic cocoa butter, xylitol, proprietary herbal formula, organic vanilla extract and organic lecithin.
Each serving contains:
Supplement Facts
Serving size
1 piece (8 g)
%DV
Servings per container
15
Calories
36
Total Fat
3 g
3.8%
Saturated Fat
0 g
0%
Cholesterol
0 mg
0%
Sodium
7.7 mg
0.3%
Potassium
40 mg
*
Total Carbohydrates
3.7 g
0.1%
Dietary Fiber
0.8 g
3%
Sugars
0 g
0%
Sugar Alcohol**
3.5 g
*
Protein
0.6 g
1.3%
Calcium
10 mg
1%
Iron
1 mg
6%
Magnesium
4 mg
10%
Zinc
0.5 mg
3.6%
** A proprietary blend containing: Momoordica Charantia, Dehydrated Noni Fruit, Biovflavinoids (Citrus Extract), Ellagic Aid (from pomegranate), Dedaffeinated Green Tea Extract, Fabenol® and Bioperin® (from black pepper).
* Daily value not established
This product contains NO gluten, wheat, soy, dairy, casein, corn, egg, nuts, preservatives, artificial flavoring or coloring.
These statements have not been evaluated by the FDA. This product is not intended to diagnose, treat, cure, or prevent any disease.
Share