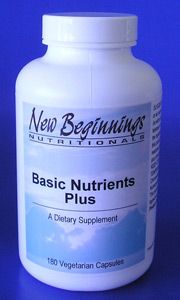 Many children with special needs frequently have self-restricted diets, poor eating habits and suffer from inadequate digestion and absorption problems.  New Beginnings Nutritionals has a specially formulated multiple vitamin and mineral product that is specially designed for children with special needs, food allergies, and impaired detoxification.  Each ingredient is carefully selected for maximum absorbability, provides for adequate B vitamins and minerals that are lacking in the diet, and is copper free, for those who wish to avoid excess dietary copper.  Basic Nutrients Plus does not contain vitamin A and D because it is designed to be taken with Cod Liver Oil, which naturally contains adequate amounts of those vitamins.  The amino acid Taurine is added to provide additional support to the central nervous system and detoxification mechanisms of the body.
$26.00

Suggested Dosage: 2-3 capsules daily swallowed or opened and mixed with food or drink or as suggested by your health care practitioner.
Each capsule contains:
Supplement Facts
Serving Size
1 Vegetarian Capsule
%DV
Thiamine (Thiamine HCI, Vitamin B-1)
10 mg
Riboflavin (Vitamin B2)
10 mg
Niacin (as Niacinamide
20 mg
Vitamin B-6 (as Pyridoxine HCI)
10 mg
Folinic Acid (as calcium folinate)
200 mcg
Vitamin B-12 (as Methylcobalamin)
100 mcg
Biotin
300 mcg
Pantothenic Acid (as Calcium pantothenate)
25 mg
Iodine (from Kelp)
75 mcg
Magnesium (as citrate)
50 mg
Selenium (as amino acid chelate)
25 mcg
Manganese (as Citrate)
2 mg
Chromium (as ChromeMmate)
50 mcg
Molybdenum (as amino acid chelate)
100 mcg
Vanadium
75 mcg
Boron
500 mcg
Potassium (as amino acid chelate
30 mg
L-Taurine
50 mg
*
* Daily Value not established.
This product contains NO yeast, gluten, egg, soy, milk/dairy, corn, sodium, sugar, starch, artificial coloring, preservatives or flavoring.
These statements have not been evaluated by the FDA. This product is not intended to diagnose, treat, cure, or prevent any disease.
Share